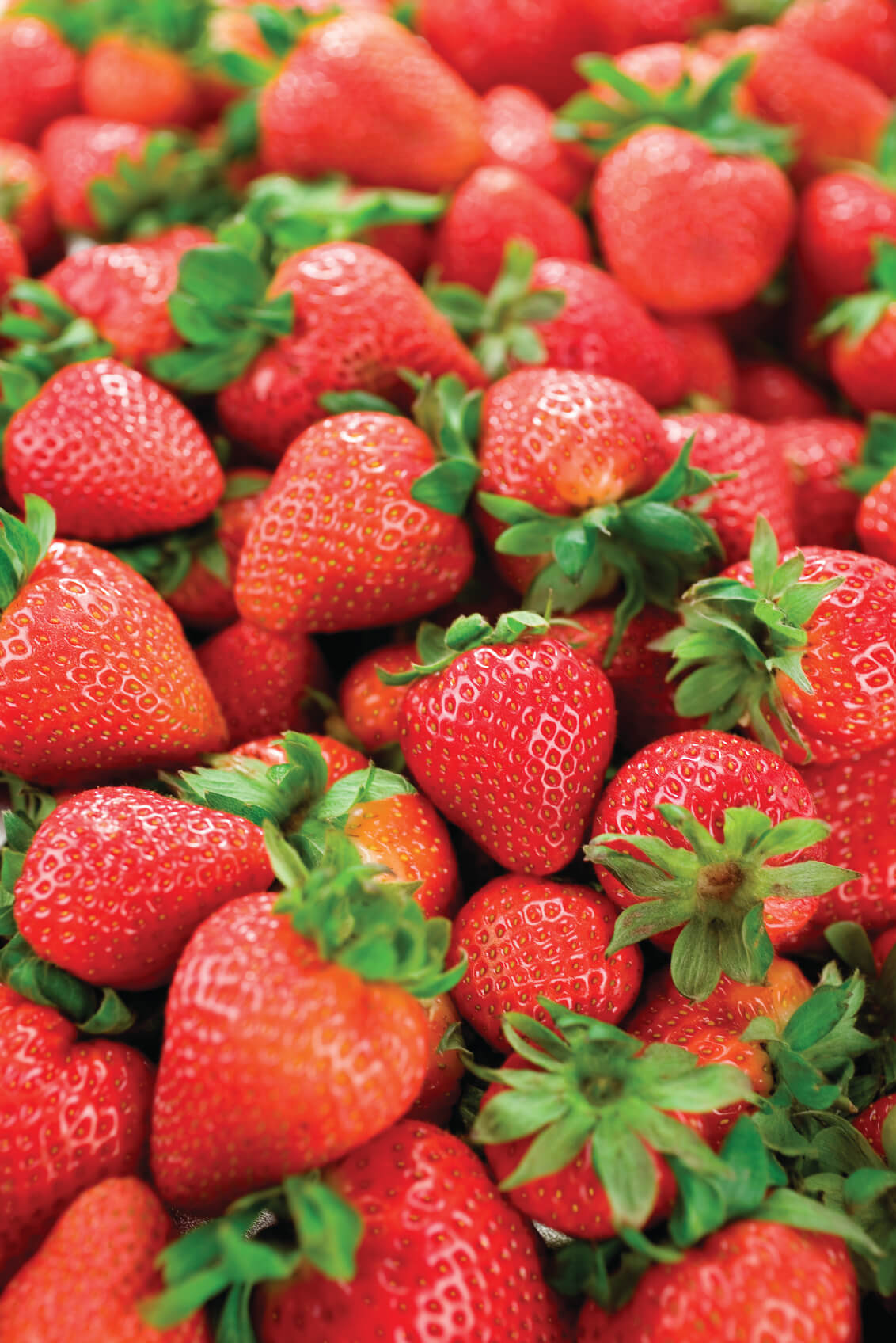 Everything's Coming Up in Strawberries

Ah, the beginning of summer: sunshine, relaxing days on the patio, and strawberries.  Whether you like them on top of cereal, salads, or ice-cream-these bright red berries are sure to put a smile on your face.
Harvest your Own:
In Southern Ontario, the first strawberries start bearing their fruit in June, typically around the beginning of summer.   However, this is not the only crop of strawberries that are grown in our region.  There are now even fall strawberries (which are harvested in the late summer), making it easy to enjoy these juicy berries all summer long.
Strawberries are easy to grow in fairly small containers including hanging baskets, strawberry planters or right in your garden. This makes them the perfect addition to both the home and patio garden. The secret to success is lots of sunshine. 
If you planted your own this year, you might have noticed a plant that is full of white or pink flowers in mid spring. These delicate blooms are the first sign that strawberries are on the way.  As a rule of thumb, most plants begin to bear fruit approximately four to six weeks after the first sign of blooms.
If you didn't plant your own, don't worry.  There are still several ways to experience the strawberry season and bring these delicious berries home to enjoy.
Visit the Local Farmers Market
In Ontario, summer means fresh, local produce.  So this year, why not go out and meet some of your local farmers and head to the closest farmer market.  The berries at these markets are usually picked the night before (or even that morning), making the produce some of the freshest that you can get. 
Pick your Own
Strawberry season is the perfect reason to get outside and learn about your local farms. Pick -your-own farms provide a little bit of insight into farming life and are a fun activity for both the young and young at heart.  These farms can provide a memorable experience for your entire family.  Children will love the ride out to the farm and discovering plants that are full of ripe, fresh berries. This gives adults a bit of sunshine and conversation as they enjoy filling their baskets with fresh strawberries. As a side note, pick-your-own farms are also perfect educational opportunities to learn about local farmers and their role in our community.
Strawberry Picking 101
Before visiting, head to your favorite farm's website. This will let you know which crop is in season, safety rules and hours of operation.

 
Wear closed shoes, comfortable clothing, a hat, and sunscreen. Strawberry fields can be sunny and muddy-so be prepared with the proper clothing and footwear.
Check their basket protocol. Some farms prefer that customers bring their own baskets, while others supply their own. If you are bringing children with you, why not give each child their own small basket to carry?  Children are often proud to share the berries that they picked with their own hands, and having their own container makes it easy to do that.
Stay on the pathways to prevent any damage to these precious plants.
This may be an obvious one, but don't forget to share your appreciation, whether it's a tip, or simply a smile and a thank you. These farms put in a lot of hard work to create a positive event for everyone, so don't forget to say thanks.
Now, the only thing left to do is to go home and enjoy your harvest.
The Three Step Storage Solution to Local Berries
You're home with baskets full of berries, now what?   There's nothing sweeter than local berries, and with a bit of planning and preparation, it's easy to enjoy local produce right into the winter months. 
Step 1:  Wash, clean, and hull all of your fresh strawberries.
Step 2:  Separate berries into three portions: Fridge, Freezer, and Pantry.
Fridge: Fresh Berries
This portion is usually the smallest one as it is the berries that will be eaten in the next week.  These berries can be used for salads, strawberry shortcakes, trifles,  ice cream toppings, wherever you would like to add fresh berries to your meals.
To preserve freshness, I like to seal the strawberries in a sealed container to prevent oxygen from seeping in and ripening the berries.
Freezer: Frozen Berries
The second portion is for freezing. These frozen berries make it easy for my family to enjoy local berries throughout the winter, whether it's in smoothies, fresh jam, or for baking. This portion is cleaned, hulled and then portioned into sealable bags - larger portions for jam and smaller ones for smoothies/baked goods.
Pantry:  Strawberry Jam
There's nothing sweeter than fresh jam.  This small-batch recipe will make four portions, which is ideal if you have limited storage space.
Ingredients:
1100 grams of fresh, cleaned strawberries
1125 grams of sugar
1 package of Certo Pectin (57g Pectin crystals)
1 Tbsp Vegetable oil
3 X 500 ml Mason jars
1 X 250 ml Mason jar
4 rings
4 new seals
Prepare the Jars:
Step 1:  Wash Jars
Step 2:  Sterilize the jars, rings, and seals in a large pot of water. Allow to boil for 5 minutes.
Step 3:  Carefully remove the jars and rings.
Step 4:   Dry the jars upside down on a clean tea towel to ensure that all excess water is removed.
Prepare the Jam:
Pro Tip:  Slowly Stir in One Direction to Avoid Foam from Forming on the Top.
Step 1:  Place cleaned and hulled strawberries into a blender or Vitamix
Step 2:  Using the puree feature, slowly blend the berries until they are smooth.  The average machine will take approximately 10 seconds.
Step 3:  Pour strawberry puree and pectin into a large pot.  Whisk to blend.
Step 4: Bring the puree and pectin mixture to a boil.
Step 5: Lower the temperature to medium heat. Gradually add in sugar, continuously stirring the mixture with a wooden spoon until the sugar is dissolved.
Step 6: Add in vegetable oil. Continue stirring.
Step 7: Continuously stir the mixture to prevent the sweet jam from sticking to the bottom of the pot.
Step 8:   The jam is done cooking once it has been at a rolling boil for 90 seconds.
Step 9:  Remove the jam from the heat, and stir slowly for an additional three to five minutes.
Step 10: Pour the warm jam into sterilized jars filling each jar up to ¼ inches from the rim.
Step 11: Place the seal and ring on and tighten.
Step 12:  Let the jam rest at room temperature until set. 
Step 13: Open and enjoy.
Note:  Once opened, store the jam in the fridge. The sealed jars can be stored in a cupboard until ready to use.